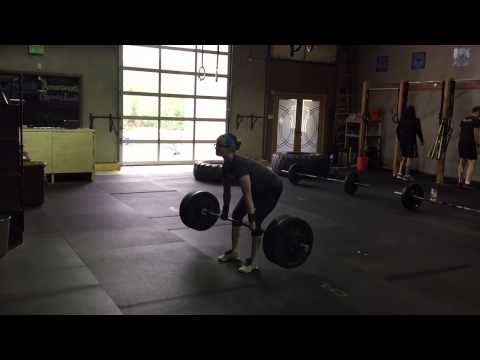 ECS Client Alyssa Martuch hitting a 30lb PR on the deadlift at 175lbs.
Alyssa just started Program Design this week. Some of her priorities we discussed during the consult were:
Leaning/getting strong
Prepping for a CrossFit competition
Developing Double Unders!
Competency and confidence in the Snatch
All of these are perfectly doable, especially when the time is taken to do a through assessment and flush out the details of a template that works with her lifestyle, goals and expectations.
I'll tell you something else…
Alyssa hit her 30# PR on the FIRST DAY of following her new program. Due to my amazing programming and coaching competency? I wish. What I really think is that she is like many folks out there who have not yet been put/put themselves on the spot and ASKED FOR PERFORMANCE. Despite a history of CrossFit training going into this.
I'm not saying it's for everyone. But boy can the mere situation and expectation be powerful.
Did you see how easy that lift was for her? And we haven't even started…
Ian Starr
Owner/Program Design Coach