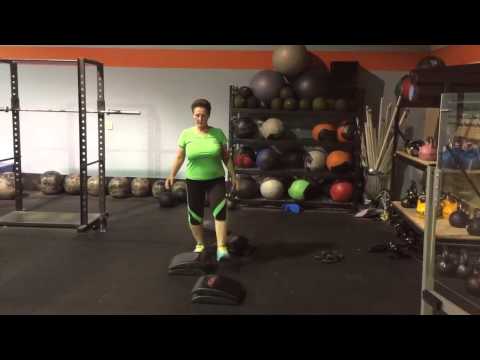 This  is a video of Rickie's first set of unassisted walking lunges, It has taken 2.5 years
of consistency and hard work to overcome her difficulties with the balance aspect of
single leg work. I am such a proud coach and friend, it's moments like this that remind
me how lucky I am to have the opportunity to better the lives of others. – Kyle
"I started working out with Kyle because of the weakness in my legs from MS. My Son
Lance is a Crossfitter and wanted to vet any perspective trainer I was going to use and
Remembered Kyle from a drop in class at Crossfit Littleton now Balance Athletics.
Starting out 2.5 years ago I could barely sit myself up or push myself off the ground.
After working with Kyle I am stronger than I have ever been in my life. At age 66 I have
lost 60 lb. and counting, I can hold a plank for 2 plus minutes and I just took my first
unassisted walking lunge steps.
These increases in strength are nothing in comparison to the health benefits I have seen, my cholesterol has dropped, my bone density has improved significantly, and my MS has not progressed since we started, my doctor says there is no reason for medication in the foreseeable future. I don't always like Kyle and tell him so most training sessions, but I always love him for how he has changed my life."
Rickie Guida
"2.5 years ago a visiting Crossfitter came to me and said his mother needed help, she
was out of shape, overweight and suffering with the symptoms of MS. I was about 2
years into my personal training career and I was feeling up for the challenge but a bit
nervous. When I first met Rickie we started out very slowly, Walking in a straight line
and balancing on one foot took up a majority of our first few months. As we have
progressed with fitness so too has Rickie's lifestyle, she has adopted an anti-
inflammatory diet and lost a significant amount of weight, her tenacity and consistency
push me to be a better trainer and to keep her progressing."
Kyle Thornton