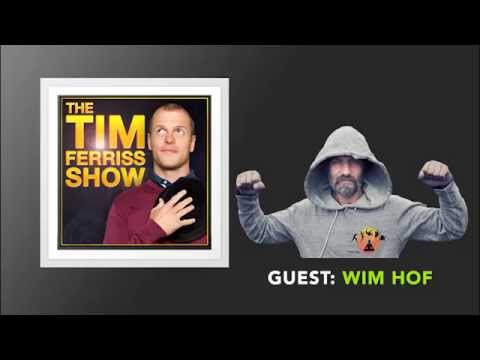 Hope you enjoy this super fun interview with "The Iceman" Wim Hof. What a character! You can also listen via the podcast button/feed on your phone. Here are some notes from Tim's site on the show…
——
WARNING: AS I'VE EMPHASIZED BEFORE, NEVER DO BREATHING EXERCISES IN WATER OR BEFORE TRAINING IN WATER. SHALLOW-WATER BLACKOUTS CAN BE FATAL.
Wim Hof (@Iceman_Hof) is a Dutch world record holder, adventurer and daredevil, commonly nicknamed "The Iceman" for his ability to withstand extreme cold. He is the creator of the Wim Hof Method and holds more than 20 world records. Wim is an outlier of outliers, as he routinely asks scientists to scrutinize and validate his feats. Here are just a few examples:
In 2007, he climbed past the "death zone" altitude on Mount Everest (~7,500 meters) wearing nothing but shorts.
In 2009, Hof completed a full marathon above the polar circle in Finland, in temperatures close to −20 °C (−4 °F). Dressed in nothing but shorts, Hof finished in 5 hours and 25 minutes.
Hof holds the current Guinness World Record for the longest ice bath, now set at 1 hour 53 minutes and 12 seconds.
But it's not just cold.
In 2011, he ran a full marathon in the Namib Desert without water. The run was performed under the supervision of Dr. Thijs Eijsvogels. He can also run at altitude without suffering from altitude sickness.
In the same year, he was injected with toxins under doctor supervision and demonstrated that he could effectively control his autonomic immune response. Wim was able to raise his cortisol levels and lower his blood concentrations of cytokines (inflammatory mediators) using solely his meditation and prep techniques.
Not only this, but he was able to train others to achieve the same effect… with only 4 days of training!